Takara Belmont Dainty Beauty Chair.
Vintage chair with a compact and stylish design. The Takara Belmont Dainty Beauty Chair is comfortable and reliable with 25 years experience. It features; a spring loaded seat cushion and padded upholstered armrest for excellent comfort, a reclining backrest with adjustable and removable headrest allowing you to position the client as needed, and a heavy duty footrest with stopper.  Ideal for a wide variety of beauty treatments, make-up, pedicure or eyebrow threading.
The Dainty chair can be upholstered in a choice of colour fabrics, with contrast piping available at an additional cost (please call our office for details). It can also be supplied on either a Black or Chrome Hydraulic base. Please use the drop down box to select all options and see below for images.
Please note: the Dainty Chair is usually kept in stock in black(NL5) or white(NL1) upholstery, other colours may incur a longer delivery time. For details please call our sales team on 01270 670280.
Dimensions: Height: 100.5cm, Width: 63cm, Depth: 85.5 – 112cm (Reclined), Initial Seat Height: 52cm.
Weight: 37kg.
Base Options:
[av_one_third first]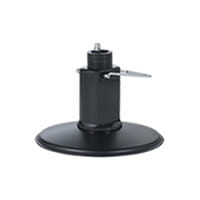 [/av_one_third] [av_one_third]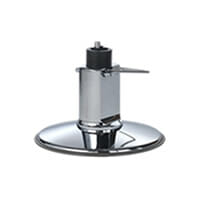 [/av_one_third]