Ayala Nobile Styling Unit
The Ayala Nobile is a beautifully built styling unit with a large mirror and stunning attention to detail. The unit features an elegant chiseled frame which is available in either gold or white with gold elements. The perfect styling unit to bring class and luxury to any salon.
Please use the drop down box to select your frame colour.
Ayala furniture is made to order, delivery will be approximately 6-8 weeks.
Dimensions: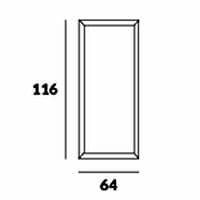 Save